Check back as we announce new performers weekly!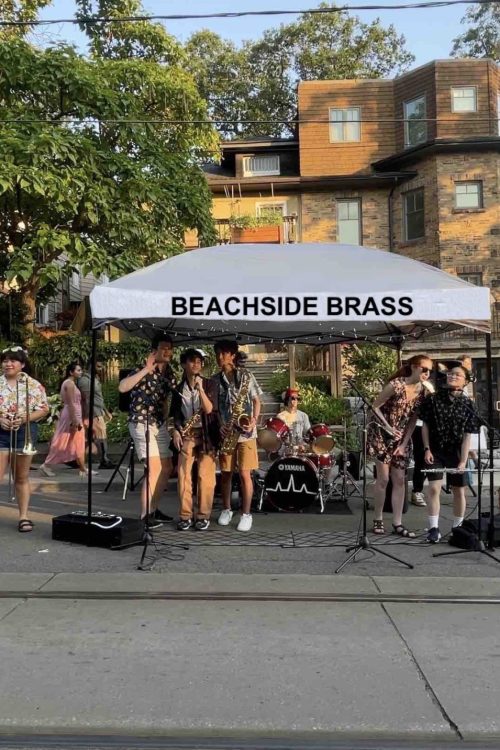 Beachside Brass is a New Orleans style band based in the Toronto beaches neighbourhood. They like to have fun with their music and encourage crowd involvement, especially dancing. So get ready to clap your hands, move your feet, and get ready to move on down to Bourbon Street!
Take a spin with Bex in Motion!  A show that combines comedy, acrobatics, juggling and mesmerizing hula hoop tricks.  Spontaneous dance parties and outbreaks of fun and excitement for all ages! With her quirky, light-hearted attitude and ability to involve audience members, Bex puts on a show that is sure to move you!
Construction Guys


Circle Act
Awaken your inner 3-year old and join "the Guys" at the Construction site. These hard hat hustlers turn an everyday build into a high energy, physical comedy with some high flying acrobatic surprises.
Feats of strength? Choreographed dances? Lunch break?
We nail it all, because nobody likes a screw up.
Jenny Jupiter


Roaming Performer
Combining mime and movement technique, unique and spectacular costumes, music, and a dash of clowning, Jenny Jupiter has landed in the city where she hangs her helmet, Toronto, to meet and delight the Earthlings of BuskerFest. A hilarious take on the traditional living statue, Jenny is an interactive character artist who is out of this world!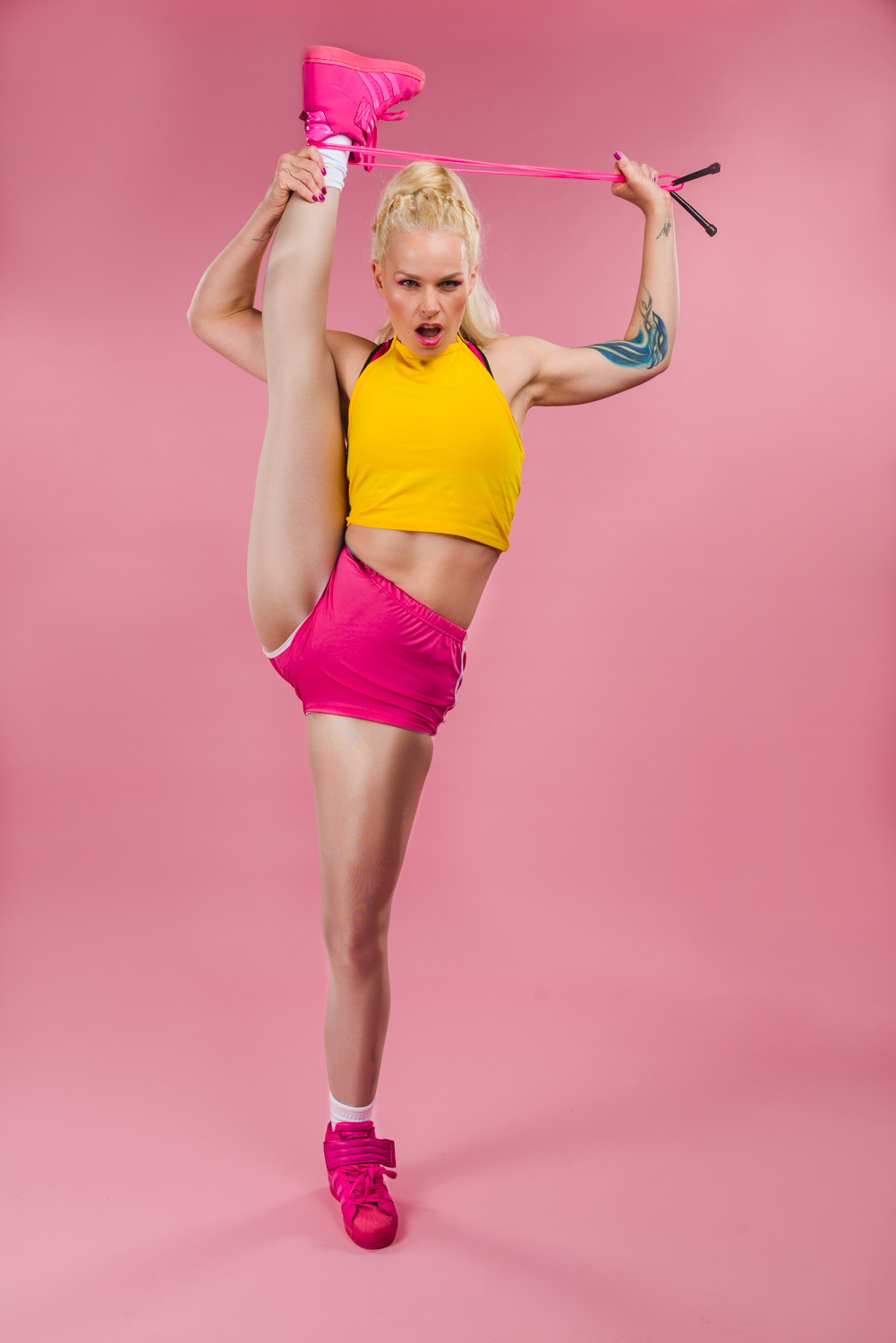 Watch Lisa Lottie 'bend it like Barbie' with SUPER stunts of flexibility and some of the most incredible hula hoop tricks you have ever seen! To top it all off she will perform the worlds most dangerous hula hoop stunt: balancing sky high on just one foot…expect great feelings of exhilaration and remember to scrape your jaw off of the floor !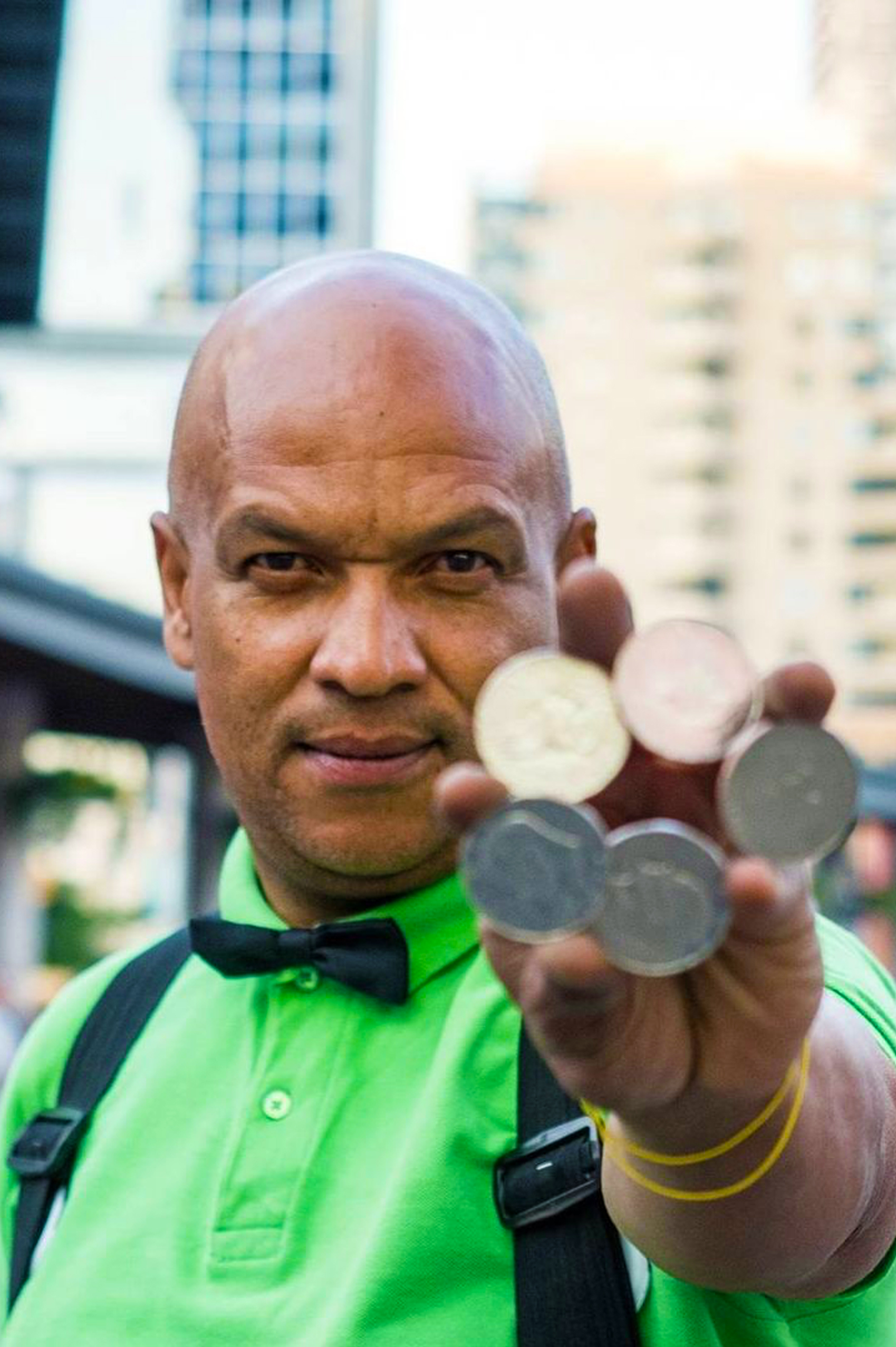 Magic Man is an experienced international magician, known for his versatility in the illusion field. He performs interactive, mind-shakingly, brilliant sleight of hand, spiced with pure comedy genius. From the Rolling Stones to U2, Magic Man has entertained the finest! He has represented South Africa at the Edinburgh Festival and has headlined across four continents. 
Mat Ricardo, the gentleman juggler, delivers big laughs, serious skills, slapstick, and breathtaking spectacle. He presents genuine danger, dexterous elegance, and thrills, performed by a man at the top of his game.
Winner of multiple international awards, star of his own sell-out London West End show, and the first man on earth to learn to put the tablecloth back on the table – Mat will will drop your jaw and split your sides.
Mo Guzman is a self-taught singer, guitarist and percussionist with over a decade of performing experience. He began his career as a solo acoustic artist busking on the streets of downtown Toronto. His gift of raw vulnerability and soulful presentation caters to a variety of occasions. Mo's unique and distinct vocal style encompasses a broad range of music from acoustic, alternative and classic rock, to hip hop, blues and R&B. His inter-generational repertoire ranges from the 50's to modern day.
Old Man Flanagan's Ghost


Saturday Night In The Beer Garden
Old Man Flanagan's Ghost have been bringing 'Music with a Celtic Heart' to audiences for years, featuring warm vocals and an energetic, dynamic fiddle performance. Imagine the smell of the sea, cold beer, old shipwrecks, stories of love and loss, and boisterous friends sharing a laugh and a song. Now mix it with an instrumentation that takes you on a journey east, and a feeling of being welcomed into your neighbour's home for a kitchen party, THAT is the essence of Old Man Flanagan's Ghost.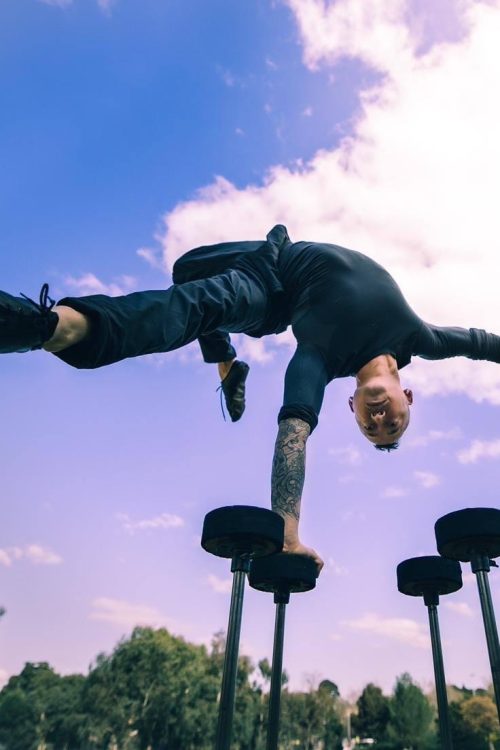 Reuben DotDotDot
Circle Act
Pushing the limits beyond upside down! An acrobatic handstand stunt show with style. Bringing you more skill, thrill and overkill… Putting a hat on with his feet, balanced, precariously, perched on one hand high in the air, this show is spectacular, unforgettable, inverted, and above all: WELL BALANCED!
High energy drumming comedy and fun! come make some noise with the official drummers for the toronto raptors. get ready for some amazing drumming and stick tricks, great beats, and prepare to laugh and join in.  Lead by Troy Sexton a Toronto Native and former cast member of STOMP, and Alonzo moore also native to Toronto , a DJ stand up comedian and drummer. Peoples choice award winners at Halifax international busker fest 2019!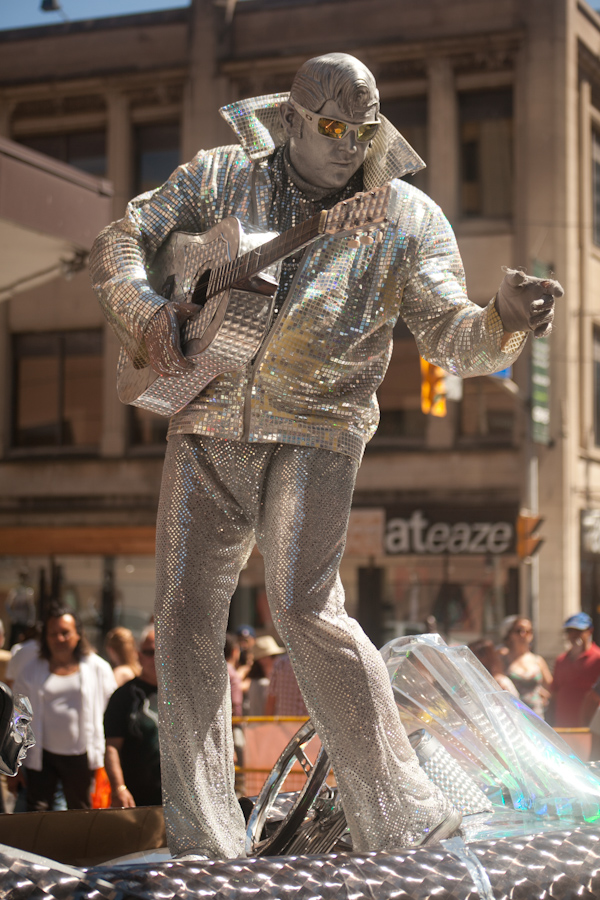 Silver Elvis


Roaming Performer
Silver Elvis (creation of Toronto performance artist Peter Jarvis) is a robotic statue of Elvis that, not unlike Elvis, is cash activated. This Memphis mechanical metal man moves for money honey – "thank you, thank you very much". In a world of 58,000 Elvis impersonators this is the most unique spin on Elvis you will ever witness. Don't forget to bring your cameras!
Simon Zenker
Circle Shows & Workshops
Simon Zenker is a hilarious young performer filled with energy. He provide a family fun show filled with magic, juggling, and incredibly weird jokes and acts you've never seen before. His shows involve high amounts of audience engagement, and participation for adults and children alike. From juggling like a T-Rex, to turning the audience into a human piano, Simon's odd but contagious sense of humour will leave audiences talking about his act long after the show  has ended.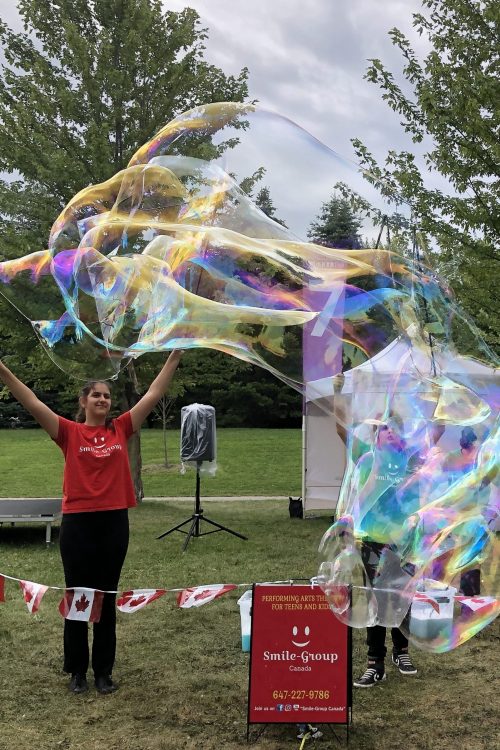 Smile Group Canada


Roaming Performer
SMILE GROUP CANADA is the exclusive Performing Arts Theater for Teens and Kids that works using unique techniques of Performing Arts –BUBBLE SHOW, Juggling Show, Neon Show, Effect Show and Giant-Dolls Show. 
Smile Group represented Canada in the International Theater Festivals in Italy, in 2016, in the Czech Republic, in 2017 and in Washington DC in December 2018.  In 2018 and 2019 Smile Group performed in the Toronto International Buskerfest, Canada.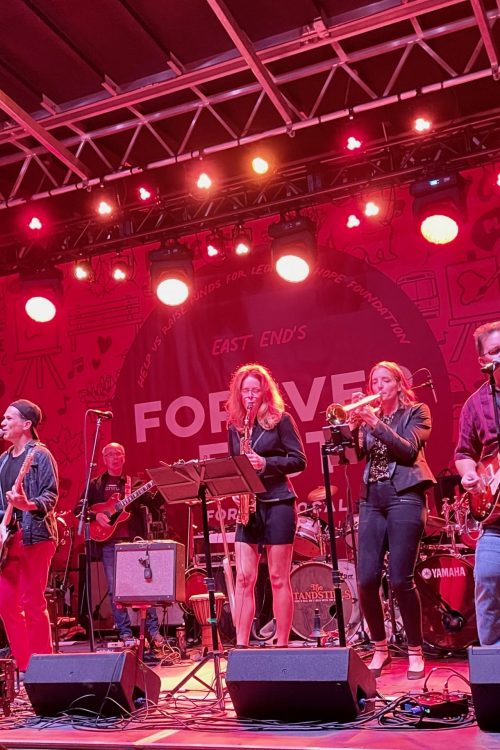 Trainwreck
Friday Night In The Beer Garden
TRAINWRECK is a high-energy, 10-piece party band from Toronto's East End, guaranteed to get people dancing with it's eclectic mix of rock, pop & soul covers, and funky originals. Fronted by stage & screen actor Rick Miller, TRAINWRECK's been rolling for the last 10 years, playing bars, festivals, private parties, fundraisers, corporate and community events. Our aim is to delight and surprise with every song we play, from ABBA to ZAPPA – a 'wrecking' good time!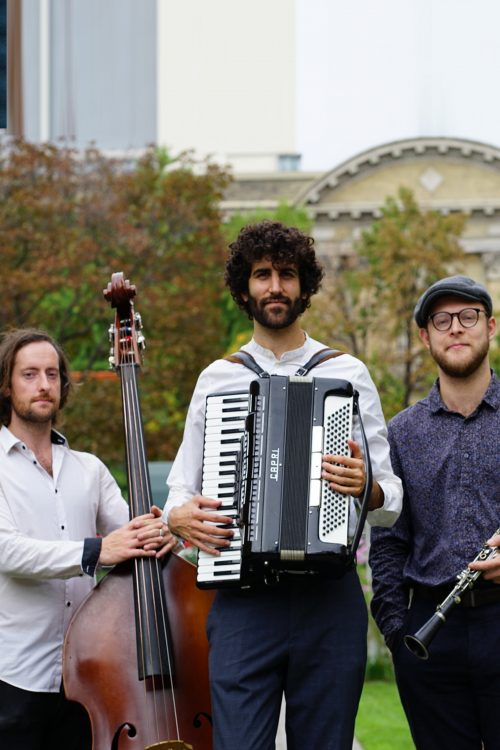 Yosl & the Yingels
Musician
Yosl & the Yingles are a Yiddish folk and swing band made up of Joseph Landau (Accordion and Vox), Gram Whitty (Bass) and Jacob Gorzhaltsan (Clarinet). The band plays all of bubby and zaidy's favourite hits from the old world with a jazzy twist. You may not know the words but you don't have to be fluent to move your tuches!
more things to do and see!

A line up of classic festival foods awaits you to tantalize your tastebuds! From Grandpa Ken's World Famous Peameal Back Bacon and Burgers to Churros and Poutine Supreme, we have festival favourite that everyone loves!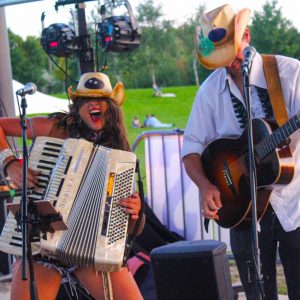 What's better than relaxing in a park while watching a great busking show? A fully licensed beer garden with live music and entertainment!
Friday, Sept 2 at 8 pm – TRAINWRECK in the Beer Garden
Saturday Sept 3 – Afternoon – Dr. Draw and the Strange Parade
Saturday Sept 3 – Evening – Old Man Flanagan's Ghost
Sunday, Sept 4 – Afternoon – Yosl and the Yingles
Sunday, Sept 4 – Evening – Drinks and Drag featuring Perla and Van Goth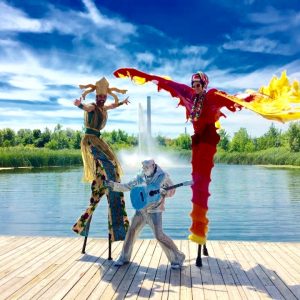 Benefit shows are a lively and spontaneous collaboration featuring performances by an outstanding collection of festival performers. The hat from these shows will be donated entirely to Epilepsy Toronto.
Friday, September 2 at 12pm join us for for a special Festival Launch, with a taste of some of the great acts to come. 
Friday, September 2 at 7 pm | Featuring FireGuy, Hoop You and Drag Queen Carlotta Carlisle
Monday, September 5 at 5pm | Hosted by 2019's People's Choice Award winner Mat Ricardo and will include the announcement of this year's People's Choice Award winner!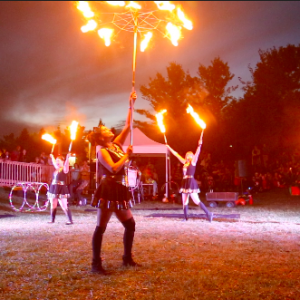 Starting as the sun goes down each night, experience Buskers After Dark with evening entertainment, art installations, fire shows, live bands and more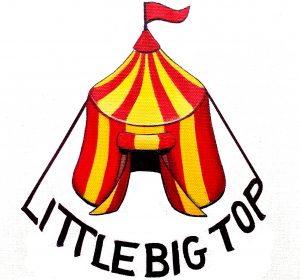 This tented performance stage features exclusive shows that you won't see on any other stage during the festival. Combining a classic circus sideshow with some of the most amazing modern talent you'll find anywhere, these shows can get a little wild!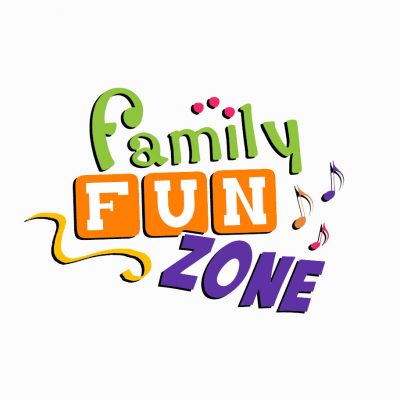 The Family Fun Zone features face painting, balloon twisting, giant games, and more! Located in the North-West corner of Woodbine Park (near Coxwell & Eastern) – this zone is fun for the whole family!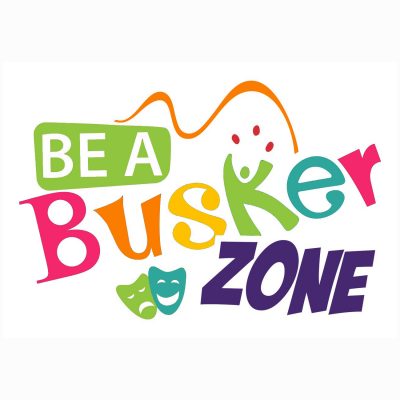 The Be A Busker Zone is an interactive area for kids to get some hands on experience in a few of the many arts that buskers perform. Daily opportunities to learn about juggling, hula hooping, dene games & aerial skills from opening of the fest to sunset. 
Friday, Sept 2,  5 – 8 p.m.,
one stage will feature performances accompanied by ASL interpretation. 
Also, Non-verbal performances will happen each day throughout the festival.


Subscribe to not miss out on anything important.
Torontobuskerfest.com | 2022 – ALL RIGHTS RESERVED.